AAIA Convention and Trade Show 2017
May 26 - 27
Red Deer, Alberta
The Alberta Association of Insurance Adjusters is holding their 70th Annual Convention and Trade Show this Friday and Saturday at the Sheraton Hotel in Red Deer.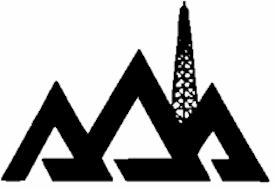 We welcome all attendees to stop by the Collision Analysis booth to chat about how we can help you with your collision and injury claims or to arrange one of our free seminars.  While you're there, be sure enter your name for our prize draw!
We hope to see you there!
Bicycle Helmet Longevity Study
Craig Good and his research partners have just had their original research into bicycle helmet longevity published in the Annals of Biomedical Engineering. Their paper, titled Age has a Minimal Effect on the Impact Performance of Field-Used Bicycle Helmets, presents the results of impact testing of nearly 800 helmets collected from consumers and retail stores. The goal of the research was to study how helmet impact performance changes with time and use.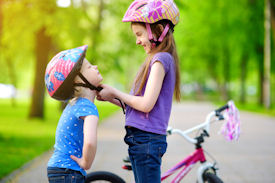 The helmets tested were up to 26 years old and were included in the study if they were free of impact-related damage, had a legible manufacture date label and were certified to at least one helmet standard.  
The bicycle helmets tested did not lose their ability to attenuate impacts with age.
If you have questions about the research or would like to discuss your helmet case, please contact us and ask for Craig Good.
On-Scene – Spring 2017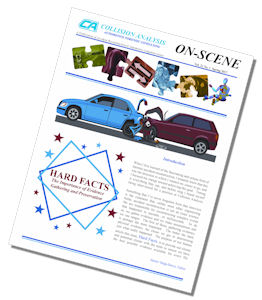 We have just launched our Spring 2017 issue of On-Scene!  In our feature article, Hard Facts: The Importance of Evidence Gathering and Preservation, we provide guidelines for our clients to follow when gathering the physical evidence that is so important to a thorough forensic investigation.
If you've read the article and still want to learn more, contact us about our newest seminar Forensic Evidence Gathering & Documentation with a Focus on Vehicle Collisions, which has recently been granted accreditation by the Alberta Insurance Council (AIC).
If you're not already on our mailing list, click here to subscribe to On-Scene free of charge! 
Tyler Gerritsen, C.E.T.
Congratulations to Tyler Gerritsen for earning his Certified Engineering Technologist designation through The Association of Science and Engineering Technology Professionals of Alberta (ASET).
Tyler joined Collision Analysis in August 2013 as a Technologist in Training.  He graduated with Honours in 2009 from SAIT Polytechnic's Mechanical Engineering Technology program.
Tyler is an integral part of our research team that conducts motor vehicle defect and collision investigations in Alberta for Transport Canada.
The Road to Autonomous Vehicles
There's been a lot of chatter the past while about autonomous vehicles.  It may seem that this version of the future is just around the corner.  But despite the various test projects currently underway, the U.S. Insurance Institute for Highway Safety (IIHS) reports that we still have quite a long way to go before self-driving cars, with the promise of a dramatic reduction or even elimination of vehicle crashes, become the mainstream.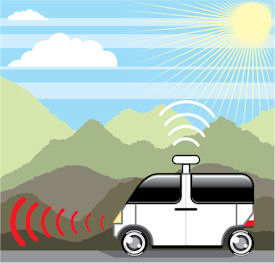 In September, the U.S. Department of Transportation (DOT) issued its first policy guidelines for autonomous vehicles, adopting SAE International's definitions for levels of automation set out in their new standard J3016.  The levels range from no automation (Level 0) to fully automated, self-driving vehicles (Level 5).  Currently, only Level 2 automation is available to consumers.  Vehicles with Level 2 automation conduct some parts of the driving task, such as speed and lane keeping, while the driver performs the rest.  At Level 2, the driver must still be fully engaged in the driving task.  The difference between Levels 0-2 and 3-5 is based on whether the human driver or the automated system is primarily responsible for monitoring the driving environment.  Predictions of when personal use semi-automated to fully automated vehicles (Levels 3-5) will be available range from the early 2020s to the 2030s.  The IIHS says that there will be a mixed fleet of autonomous and conventional vehicles for decades.
With reports of fatal accidents being on the rise for the first time in years, the IIHS recommends that in the meantime people remember the basics of safe driving such as wearing seatbelts, never driving impaired, and obeying speed limits.  And the importance of paying attention to the road rather than your smart phone can't be emphasized enough.
IIHS: Status Report Special Issue, Vol. 51, No. 8 – Autonomous Vehicles
DOT: Federal Automated Vehicles Policy
NHTSA: Vehicle to Vehicle Communications, Vehicle Cybersecurity, Automated Vehicles