The beginning of the Holiday Season is a little different for everyone.  Maybe you start decorating the day after Halloween or, if you're one of our neighbours south of the border, you might wait until after the U.S. Thanksgiving celebrations.  Whatever the case may be, by the time December comes around, the festive buzz in the air is undeniable.
This time of year, it's easy to get caught up in the hectic excitement as we're driving to parties, gatherings, and shopping centres.  Collision Analysis would like to remind everyone to stay safe on those busy roads and never drive under the influence.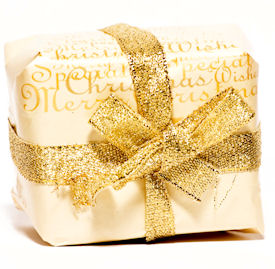 Wishing You 


Peace
and
Joy


this Holiday Season

and throughout
the New Year!
Canada Aligns Rear-View Visibility Standards with the U.S.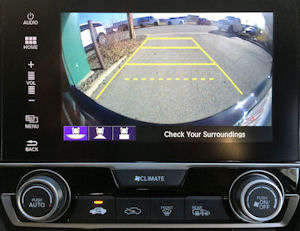 Back in April 2014, we posted about the U.S. National Highway Traffic Safety Administration's new rule on rear visibility technology.  The Final Rule mandates that all new light duty vehicles less than 10,000 pounds (such as passenger cars, SUVs and light trucks) have rear visibility technology by May 1, 2018.  Transport Canada recently announced that Canadian rear-view visibility standards will be aligned with the U.S.
The amendment will mandate that systems show a rear-view image to the driver.  While many vehicles already are equipped with backup cameras, parking sensors won't meet the new requirement.
The large blind zone in many vehicles, particularly SUVs and pickup trucks, increases the risk of back-over incidents.  Transport Canada estimates that back-over collisions killed 24 to 27 people and injured approximately 1,500 from 2004 to 2009.  In the United States, it is reported that there are 210 fatalities and 15,000 injuries each year on average caused by back-over incidents. 
The new regulations were formally posted in the Canada Gazette for a 75-day comment period.
To read about tests conducted by the U.S. Insurance Institute for Highway Safety comparing rear camera systems to parking sensors, click here.
On-Scene – Fall 2016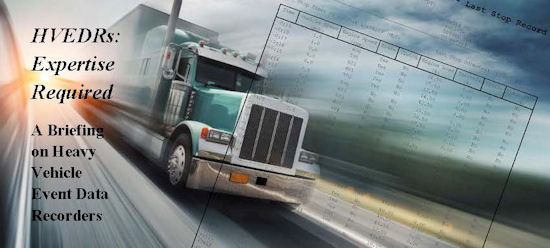 You likely already know about passenger vehicle Event Data Recorders (EDRs), still sometimes referred to as "black boxes."  You may also know that downloading and interpreting crash data from EDRs require special equipment and training.
But did you know that most heavy vehicles also have EDRs?  However, the task of accessing and interpreting the data recorded by a heavy vehicle EDR, or HVEDR, is much more complex compared to passenger vehicles.
To learn more about HVEDRs, watch for the Fall 2016 issue of our On-Scene newsletter.
If you're not on our mailing list, click here to subscribe to On-Scene free of charge! 
Pets and Airbags
We've probably all heard warnings that drivers should not allow their pets to ride in their laps. While the focus of distracted driving campaigns has been on cell phone usage, particularly texting, anything that takes the driver's attention away from the road is potentially a hazard.  Certainly an energetic lap dog would qualify as a distraction.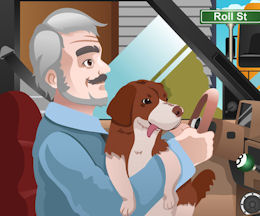 An unfortunate incident in British Columbia has brought to light another reason to keep animals out of laps while driving.  Police report that a family dog was in the driver's lap when a collision occurred, causing the frontal airbags to deploy.  There were no reported injuries to the driver or passengers; however, the deploying airbag critically injured the small lap dog, which sustained significant internal injuries.
Airbags are best at reducing injuries to properly belted occupants.  Even today's advanced airbags deploy with a great amount of force, which is why it is still recommended that children be seated in the rear, away from frontal airbags, whenever possible.  The same advice applies to pets.
The full story can be found here.
New IIHS Headlight Ratings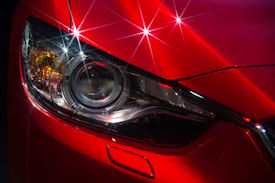 In March, the U.S. Insurance Institute for Highway Safety (IIHS) announced that it implemented a first-ever headlight rating system. They tested 31 new midsize cars with every possible headlight combination available for a total of 82 ratings.  Only one vehicle earned a good rating.  Eleven earned an acceptable rating and 10 vehicles couldn't be purchased with anything but poor-rated headlights.
The Institute has now released headlight ratings for small SUVs.  Of the 21 SUVs tested with 47 headlight combinations, not one earned a good rating.  More than two-thirds were rated poor.  Only four vehicles were available with headlights rated acceptable.
Headlights were evaluated on a test track and rated for performance on five approaches: straight, a sharp left curve, a sharp right curve, a gradual left curve, and a gradual right curve.  Both high and low beams were tested, and low beam glare for oncoming vehicles was also evaluated.
The IIHS found that neither higher vehicle cost nor newer technology, such as LED or curve adaptive systems, guaranteed better headlight performance.
The Institute reports that about half of traffic fatalities occur from dusk to dawn, and they are hopeful that their new rating system will encourage manufacturers to improve their headlight systems, leading to reduced collisions.
For more information on the IIHS's headlight ratings, click on the following links:
First-ever IIHS headlight ratings show most need improvement