On-Scene – Spring 2017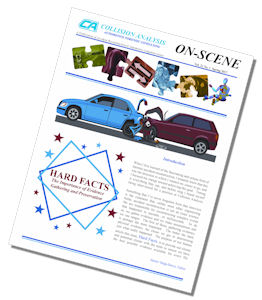 We have just launched our Spring 2017 issue of On-Scene!  In our feature article, Hard Facts: The Importance of Evidence Gathering and Preservation, we provide guidelines for our clients to follow when gathering the physical evidence that is so important to a thorough forensic investigation.
If you've read the article and still want to learn more, contact us about our newest seminar Forensic Evidence Gathering & Documentation with a Focus on Vehicle Collisions, which has recently been granted accreditation by the Alberta Insurance Council (AIC).
If you're not already on our mailing list, click here to subscribe to On-Scene free of charge! 
Tyler Gerritsen, C.E.T.
Congratulations to Tyler Gerritsen for earning his Certified Engineering Technologist designation through The Association of Science and Engineering Technology Professionals of Alberta (ASET).
Tyler joined Collision Analysis in August 2013 as a Technologist in Training.  He graduated with Honours in 2009 from SAIT Polytechnic's Mechanical Engineering Technology program.
Tyler is an integral part of our research team that conducts motor vehicle defect and collision investigations in Alberta for Transport Canada.
The Road to Autonomous Vehicles
There's been a lot of chatter the past while about autonomous vehicles.  It may seem that this version of the future is just around the corner.  But despite the various test projects currently underway, the U.S. Insurance Institute for Highway Safety (IIHS) reports that we still have quite a long way to go before self-driving cars, with the promise of a dramatic reduction or even elimination of vehicle crashes, become the mainstream.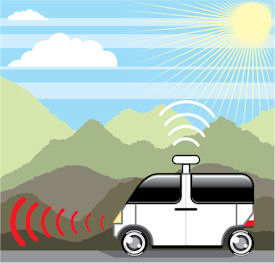 In September, the U.S. Department of Transportation (DOT) issued its first policy guidelines for autonomous vehicles, adopting SAE International's definitions for levels of automation set out in their new standard J3016.  The levels range from no automation (Level 0) to fully automated, self-driving vehicles (Level 5).  Currently, only Level 2 automation is available to consumers.  Vehicles with Level 2 automation conduct some parts of the driving task, such as speed and lane keeping, while the driver performs the rest.  At Level 2, the driver must still be fully engaged in the driving task.  The difference between Levels 0-2 and 3-5 is based on whether the human driver or the automated system is primarily responsible for monitoring the driving environment.  Predictions of when personal use semi-automated to fully automated vehicles (Levels 3-5) will be available range from the early 2020s to the 2030s.  The IIHS says that there will be a mixed fleet of autonomous and conventional vehicles for decades.
With reports of fatal accidents being on the rise for the first time in years, the IIHS recommends that in the meantime people remember the basics of safe driving such as wearing seatbelts, never driving impaired, and obeying speed limits.  And the importance of paying attention to the road rather than your smart phone can't be emphasized enough.
IIHS: Status Report Special Issue, Vol. 51, No. 8 – Autonomous Vehicles
DOT: Federal Automated Vehicles Policy
NHTSA: Vehicle to Vehicle Communications, Vehicle Cybersecurity, Automated Vehicles
The beginning of the Holiday Season is a little different for everyone.  Maybe you start decorating the day after Halloween or, if you're one of our neighbours south of the border, you might wait until after the U.S. Thanksgiving celebrations.  Whatever the case may be, by the time December comes around, the festive buzz in the air is undeniable.
This time of year, it's easy to get caught up in the hectic excitement as we're driving to parties, gatherings, and shopping centres.  Collision Analysis would like to remind everyone to stay safe on those busy roads and never drive under the influence.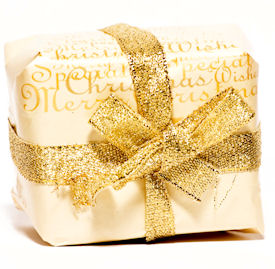 Wishing You 


Peace
and
Joy


this Holiday Season

and throughout
the New Year!
Canada Aligns Rear-View Visibility Standards with the U.S.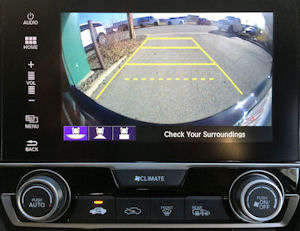 Back in April 2014, we posted about the U.S. National Highway Traffic Safety Administration's new rule on rear visibility technology.  The Final Rule mandates that all new light duty vehicles less than 10,000 pounds (such as passenger cars, SUVs and light trucks) have rear visibility technology by May 1, 2018.  Transport Canada recently announced that Canadian rear-view visibility standards will be aligned with the U.S.
The amendment will mandate that systems show a rear-view image to the driver.  While many vehicles already are equipped with backup cameras, parking sensors won't meet the new requirement.
The large blind zone in many vehicles, particularly SUVs and pickup trucks, increases the risk of back-over incidents.  Transport Canada estimates that back-over collisions killed 24 to 27 people and injured approximately 1,500 from 2004 to 2009.  In the United States, it is reported that there are 210 fatalities and 15,000 injuries each year on average caused by back-over incidents. 
The new regulations were formally posted in the Canada Gazette for a 75-day comment period.
To read about tests conducted by the U.S. Insurance Institute for Highway Safety comparing rear camera systems to parking sensors, click here.